Bakersfield CA Food Handler Card Training
California Safety Training provides safety instruction for all food handlers involved in food prep, storage or service.
Located in Bakersfield, CA, California Safety Training Corporation provides safety instruction for all food handlers. Since July 1, 2011, anyone involved in the preparation, storage or service of food in a food facility must be certified in the state of CA. We have been recognized by the Kern County Environmental Health Services Department as an authorized Food Handler training center. Contact us today to learn more!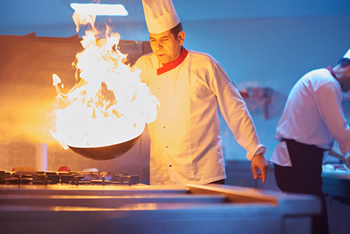 Food Handler Certification Training
Accredited by the National Restaurant Association
Accredited by State of California Environmental Health
$35 Per Student
At California Safety Training Corporation, we have trained thousands of employees in safe food preparation practices. Our Food Handler Certification training is available in both English and Spanish and is taught on a regular basis at our location. Our instructors can also train at your employment facility.
When it comes to food safety, call the leaders at California Safety Training Corporation. We have been in business for over three decades and continually strive to educate at a higher level of expertise. Along with restaurants and food handling facilities, we also serve the industries of agriculture, oil, manufacturing, construction, medical and retail.